Yihai Beijing
Inter Academy
Philosophy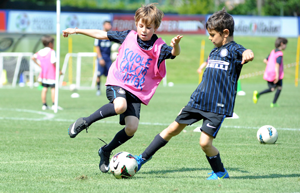 We are confident that our coaching method is of very high standards.
The experience we have in youth football and the success we achieved, have been the reasons why we decided to go abroad and share what we do at our Academy in Milan.
To give every child the exposure to our method is what motivate us and, at the same time, we really want them to grow at their home, which is the natural environment where the kids can thrive.
Participation in sports can help build self-esteem and confidence, can motivate children to excel academically and can help build social skills.
Furthermore, everyone at Inter Academy share love for the game and, through the passion of our people, we want to inspire young generation to do the same and have motivation throughout their lives.
The technical know how transfer has a focus on coaching the coaches, as we believe that to enhance local coaches ability is a crucial step in order to build an excellent football structure at youth level.
All our projects have long term duration and this prove the quality of our ambitions.
We know football and we take it seriously!
Copyright © - F.C. Internazionale Milano - P.IVA 04231750151